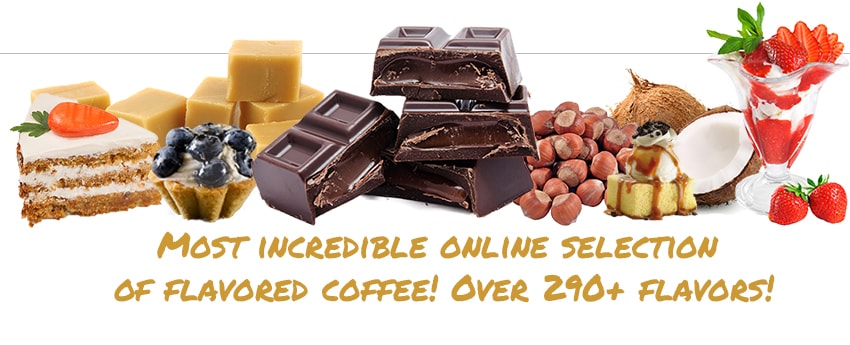 Experience the delicious world of flavored coffee with our incredible online selection! With over 290+ unique and traditional flavors to choose from, all handmade and fresh roasted to order, we offer the highest quality flavored coffee on the market.
Our premium coffee is available in a variety of bag sizes (8oz, 1lb, and 5lb) as well as our made-to-order Single-Serve Fresh Cups™. Our flavored coffee is available year-round, and can be purchased in regular or decaffeinated, whole bean or ground. Whether you prefer a bold and intense flavor or a more subtle and delicate taste, we have a flavor to suit every preference and occasion.
Our flavored coffee is made using the finest ingredients and the latest techniques to ensure maximum flavor and aroma. We carefully roast each batch to perfection, using small, specialized roasters that allow us to control the roasting process and create a consistent and high-quality product. This attention to detail means that our flavored coffee has a rich, smooth taste and a delightful aroma that will make every cup a pleasure to drink.
Whether you're a fan of classic flavors like vanilla, hazelnut, and pumpkin spice, or you're looking to try something new and exciting, our flavored coffee is sure to satisfy. With so many delicious flavors to choose from, you're sure to discover your new favorite. Try some today and taste the difference!