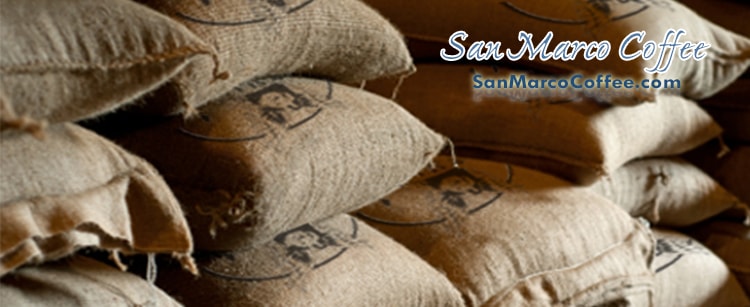 San Marco Coffee® is roasted daily and fresh to order in our state-of-the-art Roasting Plant located in Charlotte, North Carolina. We strive to deliver the fastest, most convenient online Wholesale Coffee ordering service! Placing an order with us not only guarantees you the best coffee money can buy, it puts you and or your business into an elite category of coffee drinkers. When you become a San Marco Coffee customer, you will enjoy each and every coffee you order, roasted fresh, Guaranteed! We typically roast & ship all online orders within 1 business day. Click Here for more information on online ordering and shipping.
Coffee Categories

ESPRESSO COFFEE
Our award winning San Marco Espresso! Available in regular & decaffeinated, whole beans & ground.

GOURMET COFFEE
Single-origin & our exclusive blends. These Gourmet Coffees can be custom roasted using our select your ROAST option, at Light, Medium, or Dark. Decaffeinated is available on selected coffees.

FLAVORED COFFEE
We are please to introduce to you the most incredible online section of Flavored Coffee on the Internet! Over 290+ flavors available in regular and decaffeinated.

SINGLE-SERVE CUPS
Our Single-Serve Cups a.k.a Fresh Cups™ are made to order! Selected Gourmet coffees and ALL our Flavored coffees are available.
Packaging
Our coffee is sold in 8 oz | 1 lb | & 5 lb, 5-mil bags with a one-way degassing valve. We strive for freshness and always package all our coffees immediately after they have been roasted and or flavored. We use constant heat sealers to lock in the freshness which also ensures that no outside air can get into the bag. The one-way valve allows the gas (carbon dioxide) that the beans give off after they have been roasted to be released while preventing the beans from being exposed to air.
Select Your ROAST™
Most all our Gourmet coffees can be custom roasted to your favorite roast profile. Look for the Select Your ROAST™ icon where available. You can then select any of the below roasts for that coffee.
Available Roasts
Light Roast: This roast produces coffee that is generally milder and sweeter tasting than darker roasts. These beans typically have a light cinnamon color and are not oily. All our flavored coffees are roasted at this level.
Medium Roast: This roast tends to produces a richer taste than light coffees. These beans are dark brown in color, and tend to be slightly oily but not as oily as a dark roasted coffee.
Dark Roast: Generally richer and more bold than a light or medium roast. These beans are very dark in color and are very oily.